Secret in the Sauce
Secret revealed. Celebration enjoyed.
A guy like Bill could start a party just by entering a room. He was big in stature and generous in spirit — except when it came to his BBQ sauce. Everyone, including his pastor, had tried to pry that recipe out of him for decades, without success. They all thought he'd take it to his grave. Which is why he decided that his memorial service was the perfect place to "let the cat out of the bag." He planned the ceremony with us right down to the tablecloths — blue-and-white check, nothing too fancy. The main event was a down-home BBQ following his service — short ribs, brisket and chicken — right on the well-manicured grounds of the cemetery. He wanted a country band to keep things lively, and we helped him find one that certainly did. He also arranged for each guest to take home a bottle of his signature sauce and a copy of the no-longer-secret recipe. Now his spicy legacy will definitely live on.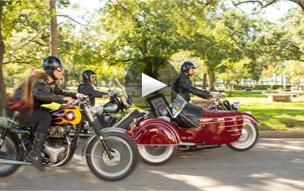 Passion for the Road
Riding toward a one-of-a-kind memorial.
Not long after he learned how to walk, he learned how to ride. A bright blue Schwinn gave way to a moped soon enough, and before long the course was set — as was his own compass for the open road. At 19, he used his savings from working nights and weekends at the A&P to buy his first motorcycle, a second-hand beauty which led him to freedom, more than a few back road adventures and — somewhere in Arizona — the nickname "Dude." So when it came time for a fitting memorial, his friends knew just what to do. Nothing short of a motorcycle motorcade, heading straight in to the chapel. Riding was his passion, so naturally that's how he should be chaperoned to his next destination. By working with Dignity Memorial professionals, his vintage motorcycle group mapped the whole ceremony out—right down to the bouquets in vintage oilcans and 1947 Indian motorcycle key rings for guests. Heaven has no speed limit, so you go, Dude!
Whitewater Rapture
Honoring an adventurous spirit.
She first picked up a paddle in summer camp and that was all it took to spark a lifetime passion. For their honeymoon, she and Evan travelled to Alaska to kayak amidst the grandeur of glaciers and in the presence of remarkable wildlife. She became a certified instructor and on weekends encouraged others to experience the peace and wonder of being on the water. For her memorial, it wasn't hard to figure out what to plan. Her passion led the way and the professionals at Dignity Memorial handled all the details. It was an outdoor ceremony with candles in seashells, oysters on the half shell and the most personal of all touches: her fellow paddlers carried her urn in the beautiful kayak she had made by hand. Her husband had even arranged for a custom headstone to be made with a paddle and the words, "Keep on paddling!" No doubt that's exactly what she's doing at this very moment.
Passion Play
A ceremony for golfers.
Almost everyone knows a golfer who loves spending life on the green. When it's time to plan the perfect memorial service for your favorite golfer, consider some elements inspired by his favorite pastime. The setting? An outdoor service with putting green, of course. For guests, custom imprinted golf balls and tees as fitting mementos and club sandwiches on the menu. Add a string quartet as an elegant final foursome. Whatever his handicap on the course, Dignity Memorial professionals can plan a beautifully inspired celebration to capture the essence of what he most enjoyed.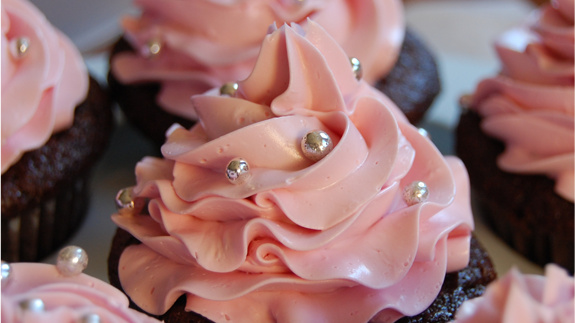 A Shimmering Remembrance
A memorial for the matriarch.
She always dressed to the nines and would never be caught in anything without her pearls. So how do you plan the perfect funeral service for such a classy — and classic — lady? Start by encouraging guests to wear pearls in her honor. Layer in a pianist playing 1940s standards. Add cupcakes in her favorite color and topped with pearl embellishments. Lastly, a custom monument for a timeless memorial. When it's time to plan the service that perfectly captures the essence of you or someone you love, the professionals at Dignity Memorial funeral homes and cemeteries are experts at offering little pearls of wisdom.
Cultivate What's Personal
A gardener's love celebrated.
There's one in almost every family — the aunt, sister, cousin with the green thumb. While some can't keep a healthy houseplant, everything green seems to simply flourish under her loving care. For her funeral or memorial service, let her passion be the inspiration. Consider an outdoor service under a blooming trellis, with flower petals in her favorite colors lining a walkway. Custom seed packets as mementos for guests encourage them to plant new life in her honor, continuing her legacy. The music? Vivaldi's "Four Seasons" might be just right. Working with Dignity Memorial funeral professionals, let your loved one's unique spirit plant the seeds of her perfect celebration.

Spark your inspiration with
your FREE Imagine book.
From flowers and music to food and mementos — it's special personalization that makes a celebration memorable. Imagine draws on our years of experience to help you envision the possibilities.